Discount Office Furniture index of all furniture styles
Manufacturers
Seating
for index of all seating styles
Traditional & Contemporary Seating
Specialized Furniture ----All On Sale Half Price
Questions ? or
To Place Your Order
Call 856-368-9085
Call For Our Super Low Discount Prices
Questions ? or
To Place Your Order
Call 856-368-9085
Call For Our Super Low Discount Prices
Questions ? or
To Place Your Order
Call 856-368-9085
Call For Our Super Low Discount Prices
Questions ? or
To Place Your Order
Call 856-368-9085
Call For Our Super Low Discount Prices
Questions ? or
To Place Your Order
Call 856-368-9085
Call For Our Super Low Discount Prices
Questions ? or
To Place Your Order
Call 856-368-9085
Call For Our Super Low Discount Prices
Questions ? or
To Place Your Order
Call 856-368-9085
Call For Our Super Low Discount Prices
Questions ? or
To Place Your Order
Call 856-368-9085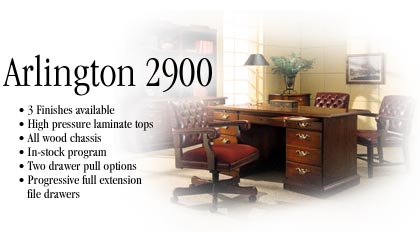 As the best selling furniture in it's category, the Arlington Collection from Indiana Desk proves to be the right stuff for the job. Competitively priced, exquisitely designed, this line of executive furniture creates the perfect atmosphere for solving problems, meeting deadlines, and reaching your goals.
Without a doubt, the Arlington Collection of executive furniture is beautifully designed for style-minded offices. Yet it still places great emphasis on value. Constructed from quality solid hardwoods and veneers, the Arlington line featyres high-pressure laminate desktops for added durability and sleek raised panels for extra flair.
To complete your office, choose from a variety of matching casegoods, including conference tables. What's more, Arlington furniture is available in three splendid finishes to fit any office decor.
While it shows your stylish side, it exhibits unparalleled functionality ... giving new meaning to the phrase "positive work enviroment."
Details:
Select grade American Black Walnut veneer chassis with matching high pressure laminate top.
Drawer interiors are oak-grained medium density fiber board.
Chassis feature durable mortise and tenon construction.
Pedestals constructed with solid hardwood parting rails for additional stability.
Catalized varnish finish protects units from fading and abrasions.
Central locking system locks all drawers with the turn of a single key.
PDF Shows List Prices, Call 856-368-9085 For Your Low Discounted Prices
Now On Sale
Call For Our Super Low Discount Prices
Call for your low pricing and component options. 856-368-9085 Tell us what you need and we'll put together a quote for you with the Arlington collection to meet your requirements.
The Arlington Collection is On Sale Now
Our prices are so low the manufacturer won't let us publish them.
Call Now to Get Your Super Low Discounted Pricing - 856-368-9085
Delivery and Installation available nationwide call 856-368-9085 for more info.
856-368-9085