Discount Office Furniture index of all furniture styles
Manufacturers
Seating
for index of all seating styles
Traditional & Contemporary Seating
Specialized Furniture ----All On Sale Half Price
Questions ? or
To Place Your Order
Call 856-368-9085
Call For Our Super Low Discount Prices
Questions ? or
To Place Your Order
Call 856-368-9085
Call For Our Super Low Discount Prices
Questions ? or
To Place Your Order
Call 856-368-9085
Call For Our Super Low Discount Prices
Questions ? or
To Place Your Order
Call 856-368-9085
Call For Our Super Low Discount Prices
Questions ? or
To Place Your Order
Call 856-368-9085
Call For Our Super Low Discount Prices
Questions ? or
To Place Your Order
Call 856-368-9085
Call For Our Super Low Discount Prices
Questions ? or
To Place Your Order
Call 856-368-9085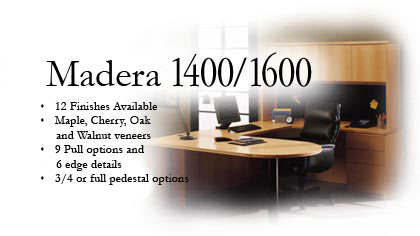 Now On Sale
Call For Our Super Low Discount Prices
Call for your low pricing and component options. 856-368-9085 Tell us what you need and we'll put together a quote for you with the Madera collection to meet your requirements.
The Madera Collection is On Sale Now
Our prices are so low the manufacturer won't let us publish them.
Call Now to Get Your Super Low Discounted Pricing - 856-368-9085
Delivery and Installation available nationwide call 856-368-9085 for more info.
856-368-9085
From rich, refined transitional to fresh, modern contemporary, Madera offers just the right selection of finish, edge, pull, and hutch door options to create a wide variety of looks within one diverse product line.
Details:
Select grade cherry, maple, walnut or white oak veneers with optional HPL workspaces.
Drawer interiors are oak-grained medium density fiberboard with rigid five sided construction.
Optional birch drawer interiors that feature french dovetail construction are available for an additional upcharge.
Available with flat-front or flush modesty panels.
Full or ¾ pedestals for design flexibility.
Components specified in walnut and oak feature a multi-step finish process for crystal clear protection.
Legal or letter width pedestals for versatile filing.
Desks feature optional pull out writing shelves.
Locking pedestals ensure privacy.