Discount Office Furniture index of all furniture styles
Manufacturers
Seating
for index of all seating styles
Traditional & Contemporary Seating
Specialized Furniture ----All On Sale Half Price
Questions ? or
To Place Your Order
Call 856-368-9085
Call For Our Super Low Discount Prices
Questions ? or
To Place Your Order
Call 856-368-9085
Call For Our Super Low Discount Prices
Questions ? or
To Place Your Order
Call 856-368-9085
Call For Our Super Low Discount Prices
Questions ? or
To Place Your Order
Call 856-368-9085
Call For Our Super Low Discount Prices
Questions ? or
To Place Your Order
Call 856-368-9085
Call For Our Super Low Discount Prices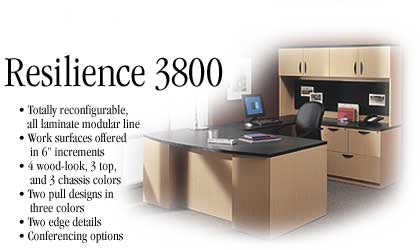 Now On Sale
Call For Our Super Low Discount Prices
Call for your low pricing and component options. 856-368-9085 Tell us what you need and we'll put together a quote for you with the Resilience collection to meet your requirements.
The Resilience Collection is On Sale Now
Our prices are so low the manufacturer won't let us publish them.
Call Now to Get Your Super Low Discounted Pricing - 856-368-9085
Delivery and Installation available nationwide call 856-368-9085 for more info.
Free Shipping* 856-368-9085
* Indiana Furniture is currently on sale. Free shipping to a business with a dock. (The freight company will get the cartons to the end of the trailer and then it is your responsibility to get the furniture off the truck). Residential delivery with lift gates, setup and installation are available for additional charge, call 856-368-9085 for details.
The durability of all laminate combines with a multitude of configuration possibilities to make Resilience a perfect choice for high traffic work areas. A palette of modular components, color or wood-look laminates, edge, and pull options allow for workspace customization.
Details:
High pressure laminate worksurfaces with thermo-fused chassis for scratch free, chip resistant surfaces.
Worksurfaces shaped on all four sides.
Specify modular components for flexibility or specify pre-configured workstations that are easily ordered with one model number.
26" deep full extension file drawers with black laminate interiors.
Drawers feature five-sided construction for easy drawer front removal.
Locking pedestals ensure privacy.
Grommets are standard on all corner and extended corner worksurfaces as well as in back panels of returns, bridge units, credenzas, and hutches.