Discount Office Furniture index of all furniture styles
Manufacturers
Seating
for index of all seating styles
Specialized Furniture ----All On Sale Half Price
Questions ? or
To Place Your Order
Call 856-368-9085
Call For Our Super Low Discount Prices
Questions ? or
To Place Your Order
Call 856-368-9085
Call For Our Super Low Discount Prices
Questions ? or
To Place Your Order
Call 856-368-9085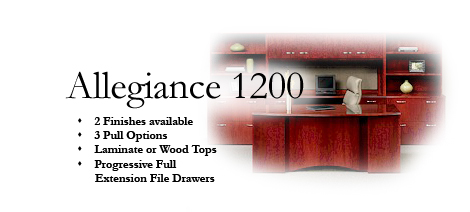 Now On Sale
Call For Our Super Low Discount Prices
Call for your low pricing and component options. 856-368-9085 Tell us what you need and we'll put together a quote for you with the Allegiance collection to meet your requirements.
The Allegiance Collection is On Sale Now
Our prices are so low the manufacturer won't let us publish them.
Call Now to Get Your Super Low Discounted Pricing - 856-368-9085
Delivery and Installation available nationwide call 856-368-9085 for more info.
856-368-9085
Allegiance offers the style and strength expected of a premium casegood collection at an unexpected price. A fluted edge coupled with a unique arc modesty panel provide heightened design value. Three pull options and two finish options invite the opportunity for versatility. Experence the freedom to personally express American made sophistication without breaking the budget.
Details:
Made with select grade American hardwood for years of durability.
Choose veneer tops featuring a multi-step catalyzed varnish topcoat that protects against spills and abrasions or high pressure laminate tops for a scratch-free surface.
Multi-step finish process for crystal clear protection.
File drawers lock to ensure privacy.
Three pull options provide design flexibility.
Unique arched modesty panel provides heightened design value.
Ten year warranty ensures quality in design, detail and workmanship.