Discount Office Furniture index of all furniture styles
Manufacturers
Seating
for index of all seating styles
Traditional & Contemporary Seating
Specialized Furniture ----All On Sale Half Price
Questions ? or
To Place Your Order
Call 856-368-9085
Call For Our Super Low Discount Prices
Questions ? or
To Place Your Order
Call 856-368-9085
Call For Our Super Low Discount Prices
Questions ? or
To Place Your Order
Call 856-368-9085
Call For Our Super Low Discount Prices
Questions ? or
To Place Your Order
Call 856-368-9085
Call For Our Super Low Discount Prices
Questions ? or
To Place Your Order
Call 856-368-9085
Call For Our Super Low Discount Prices
Questions ? or
To Place Your Order
Call 856-368-9085
Call For Our Super Low Discount Prices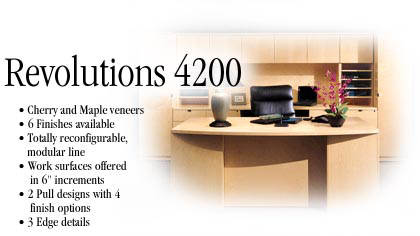 Now On Sale
Call For Our Super Low Discount Prices
Call for your low pricing and component options. 856-368-9085 Tell us what you need and we'll put together a quote for you with the Revolutions collection to meet your requirements.
The Revolutions Collection is On Sale Now
Our prices are so low the manufacturer won't let us publish them.
Call Now to Get Your Super Low Discounted Pricing - 856-368-9085
Delivery and Installation available nationwide call 856-368-9085 for more info.
856-368-9085
Clean aesthetics with unsurpassed configuration flexibility, revolutions is designed for adaptability. A pallet of modular components, edge, and pull options allow for design individualization. Finely crafted in beautiful hand-select maple and cherry veneers, an ultra violet topcoat on all exposed surfaces adds unsurpassed hardness and extreme durability for long lasting office applications.
Revolutions' expansive modular component offering brings unlimited choices to office configurations. Build extended work areas with 24-inch deep modular worksurfaces in lenghts of up to 108 inches. Scale down components in smaller footprints for a cozy functional fit. Add a multitude of above and below storage options to stow books and files keeping offices organized and clutter free.
Reconfigure revolutions as needs change. Worksurfaces and non-handed components are designed on a six-inch increment system that utilizes pre-installed metal insert fasteners. These metal inserts make it easy to add, subtract, or change workstation configurations again and again without defacing veneer surfaces for exceptional looking offices today and down the road.
Heavy duty work areas require added protection. Solid wood edges and abrasion resistant UV coated surfaces demonstrate our standard for high performance office enviroments. Additionally, our UV topcoat magnifies the beauty and clarity of all our wood finishes showcasing our impeccable craftsmanship and attention to every detail.
Details:
Hand-select grade maple and cherry veneers with choice of seven finishes.
Hardwood edge rims with mitered corners provide a solid, lasting top with a consistent finish appearance.
A durable, hard, UV advantage finish process accentuates grain clarity and provides superior resistance to normal worksurface wear.
Tops, end panels, and modesty panels are assembled using european-style mechanical fasteners and heavy duty joining brackets to assure maxium strength.
All drawer slides carry a lifetime warranty. Box and file drawers feature full extension slides.
Hardwood drawer interiors are sanded and finished for smoothness. Five-sided drawer construction allows for easy removal of drawer fronts.
Edges and Pulls
AAA
Square
Tail
Fluted
Black Nickel Bullet Pull
Matte Black Bullet Pull
Satin Brass Bullet Pull
Satin Nickel Bullet Pull
Black Nickel Curved Pull
Matte Black Curved Pull
Satin Brass Curved Pull
Satin Nickel Curved Pull
Finishes
AAA
Clear Maple
Light Maple
Golden Cherry
Bourbon Cherry
Autumn Cherry
Dark Cherry
Espresso Cherry
Components and Pricing
Sample Layouts
Drawer Slides / Filing
Desk file drawers feature 150lb. heavy-duty full-extension slides that support heavy loads. desk file drawers allow for double letter side-to-side filing, or single legal front-to-back or single legal side-to-side filing.
Modularity
A six-inch pre-installed metal insert worksurface system allows for complete modularity and reconfigurability of components. These inserts allow non-handed pedestals, worksurfaces, and modesty panels to be fastened togeather without defacing veneer surfaces.
Manage Wires
Route power and data cables away from desktops for clutter free worksurfaces. Grommets are standard in back panels of returns, bridges, credenzas, and hutch units.
Locking
All pedestals and files feature locking pedestals ensuring privacy by locking all drawers with the turn of one key. Removable lock cores allows for rekeying at a later date.