Medina Collection from Safco Products
Medina Series Laminate Modern Office Furniture
Half Price Sale On Now - Call 856-368-9085
Expensive tastes meet tight budgets. Contemporary style, elegant functionality and exceptional value come together in the MedinaTM Series of laminate casegoods. Clean lines, curved shapes and floating worksurfaces reflect Italian design influences. A smartly edited
array of components allows a tremendous range of workplace configurations. And all of this is delivered at an incredibly affordable price.

Bringing more to the table.
Medina offers plenty of opportunity for interaction and engagement with conference tables ranging in size from 8 to 14 feet as well as a 48" round conference table. All can be equipped with power and data outlets to further enhance connection. Five standard finishes ensure a beautiful collaboration with other Safco Mayline furniture and complement most any decor.
Medina Collection "L" Desk Executive Suite
Medina Laminate Casegoods — Creative Forces at Work
An inspired new world of modern, classic furniture.
Medina™ infuses a unique aesthetic into familiar office elements. Its clean lines, curved shapes, and floating worksurfaces reflect Italian design influences. The distinctive collection includes elements that suit spaces ranging from private offices, to reception areas, to conference rooms, with laminate choices that can create atmospheres both exciting and serene.
Capture the spirit of Italian design, and convey a strong sense of creativity with Medina.
Medina Desk, Lateral File and Corner Bookcases
Medina Height Adjustable Desk
Part of the Active Collection from Mayline—Safco; The Active Collection products are designed to promote active movement throughout the day and engage major muscle groups to help combat the negative effects of inactivity in many workplace settings.

MEDINA PRODUCT SPECS & FEATURES
Height-adjustable desks allow for a more active workday
• Desks easily adjust from 29½ - 471⁄4"
• Desk tops have stylish curves or straight ends for a clean look
• All work surfaces are 1" thick with a distinctive beveled edge and Silver detail to add a contemporary look
• All pieces coordinate with Medina™ Desking, Conference and Reception Furniture
• Drive System 110V, 60Hz AC input 120V DC motor draws a maximum of 3 amps for quick and easy movement
• Moves at a speed of 3⁄4" per second for quick adjustment
• Control Switch has simple Up/Down Buttons; sold as standard for ease of reconfiguration
Medina Conference Table, Credenza and Bookcase
Medina Laminate Casegoods
The fine art of choice.
1. Ideal workplace configurations. From traditional U-shaped to open concept designs, Medina brings a myriad of options for interaction. Unified and pieces create cohesiveness with desks, extensions, credenzas, cabinets and conference tables.
2. Contemporary aesthetics and style. Beveled edges and dramatic curves accent desks or reception stations and lend impressive visual impact. Or choose long, clean straight lines for an even greater contemporary feel.
3. A variety of colors. Rich in texture and detail, laminate color options include Mahogany, Gray Steel, Mocha, Textured Brown Sugar, and Textured Sea Salt. Two-toned Textured Sea Salt (above surface) and Mocha (base) creates a unique aesthetic.
4. Conference table choices. Medina offers plenty of opportunity for interaction and engagement with conference tables ranging in size from 8 to 14 feet, as well as a 48" round conference table. All can be equipped with power and data outlets.
5. Bridge the gap. The height adjustable bridge provides a sit-stand solution and supports today's dynamic and active workspaces.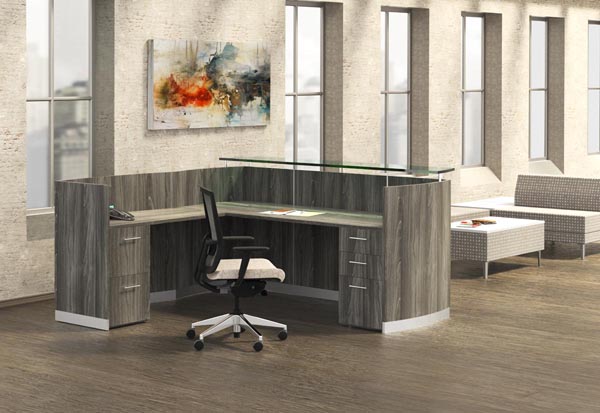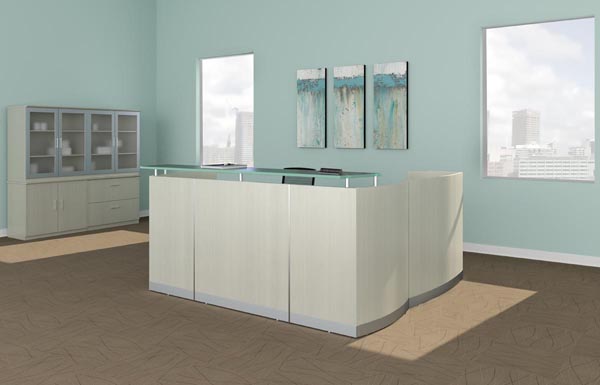 Medina from Safco Reception Desk
Powerful
A variety of power outlet/data jack combinations can be field-installed into all desks and conference tabletops.

Simple
Mayline makes it easy to order complete suites by offering several typical furnishing arrangements to choose from.

Rapid
All models in all finishes are available on both the Quick-Ship and Fast Freight delivery programs with no quantity limitations.

Coordinating
Our Prestige and Santa Cruz® Lounge Collections are the perfect complement to any of our casegood lines. The lounge collections not only accommodate traditional waiting areas, but also lend added comfort to teamwork spaces.

Complete
Mayline offers a host of seating solutions to suit a wide variety of needs and styles. From our Ultimo™ Leather Series chairs for executive offices and boardrooms, to Gist™ multipurpose chairs; Valoré™ high-back chairs, to Mercado™ Wood Series Guest/Side chairs. And many more.
Medina "L" Desk with Mercado High Back Executive Chair and Gist Guest Seating
Finish Options
Half Price Sale On Now
Medina Series PDF Component & Price List
Take Half Off List Prices in PDF
Give Us a Call, We'll Get You a Quote Based On Your Specifications Call Now 856-368-9085
Free delivery to businesses location with loading dock. (​$4,000 List Price Minimum otherwise $150 charge) Residential, no loading dock and other non-comercial location deliveries available call for details. Inside delivery and Installation available call 856-368-9085 for more info. All Safco Mayline is currently on sale for 50% Off. Take Half Off of List Prices shown in Price PDF.