Lacasse Think Smart Educational Series
Groupe Lacasse Think Smart Educational Furniture
Half Price Sale On Now - Call 856-368-9085 To Place Your Order or Ask Questions
From the reception area to interactive learning Stations and computer labs, Lacasse offers a complete range of products covering the full needs of teaching establishments. All components are designed to meet your requirements in terms of ergonomics, flexibilty and integration of new technologies.
Smart construction
From the time it was fi rst founded some 55 years ago, Groupe Lacasse has earned an enviable reputation for creating smart furnishings. Our commitment to you is based on an ongoing quest for quality, attention to detail and innovation. These qualities have earned us ISO 14001 and 9001 certifi cations.

Setting the standard for durability and reliability, Lacasse Think Smart furniture combines thermofused laminate components with metal-to-metal hardware assembly designed to adapt to the realities of educational establishments.

All of our products are highly resistant and carry a limited lifetime warranty. And all meet or exceed BIFMA standards. Better yet, their design is based on principles of modularity and interchangeability. As a result, components can easily be changed to update the look of a piece of furniture or to increase its service life.
Smartly designed for learning
Smart design involves the creation of product lines adapted to new teaching approaches. Furniture designed for teamwork, communication and learning. What drives us: a desire to help you turn teaching establishments into environments conducive to personal success and achievement.
Smart fit.
Our products evolve with you and your needs. Think Smart furniture by Lacasse consists of an extensive range of modular components that fit seamlessly with each other. Better yet, they also fit beautifully with other Lacasse freestanding casegoods and steel storage, United Chair seating and Paradigm panel-based system furniture.

Think Smart products are distinguished by fluid profiles, attractive angles, and straight lines as well as a host of practical features. Shapes, dimensions, colors: all of our products can be customized to your criteria.

Our leadership in the areas of design and innovation has been recognized by many awards including several "Best of Neocon" prizes.
Think Smart. Think environment.
Groupe Lacasse is committed to preserving our natural resources and minimizing its environmental footprint. Our furniture is manufactured primarily from particleboard produced from 100% post-industrial waste. We also apply many other recovery measures.

We are understandably proud, therefore, of our products' GREENGUARD® certifications, which not only confirm that our products will not adversely affect the air quality of your work environment, but allow architects, designers and specifiers using Groupe Lacasse products to earn points towards LEED certification.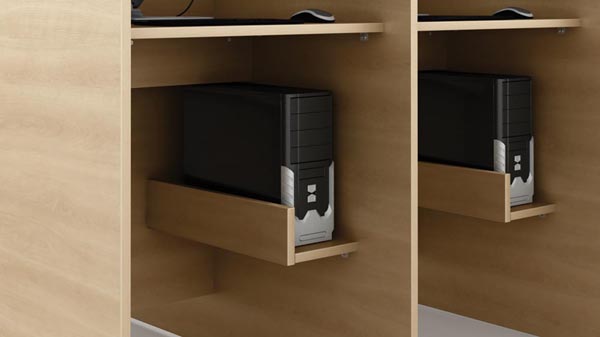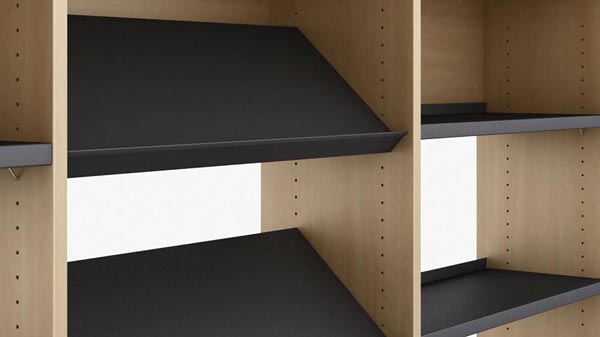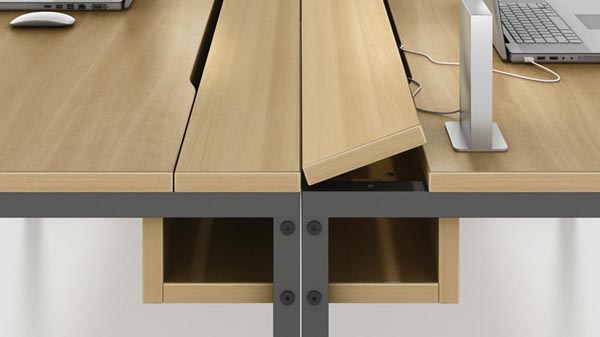 CPU or Storage Shelf
Library Shelves
Wire Management Channel
Think Smart. Be well informed.
To store or refer to documents of any type and study comfortably, Lacasse has created a complete furniture system meeting the needs of media centers.

Traditional teaching techniques are giving way to more flexible, or more active methods. Lectures are being replaced by team-based research projects.

Calling for frequent moves and easy access to various sources of information, these methods require workstations that make it easy for students and teachers alike to refer to documentation and focus on their contents. Lacasse worktables, bookcases, counters and carts have been designed to facilitate research activities and study.

Here, Lacasse proposes modern educational furniture that favors a mindset conducive to learning.
Think Smart. Think Adaptability.
As flexible as they are functional, the following three furniture layouts adapt to different teaching approaches.
All storage units with doors feature hinges that open to 135-degrees. Hinges that provide 270-degree openings are also available upon request. Not available on products with metal doors.
A new generation of collaborative workstations welcomes students in an environment that merges esthetics and functionality.
Individual work, teamwork or brainstorming sessions, Think Smart furniture adapts to every situation.
Smart Integeration of New Technologies
Lacasse offers you furniture whose smart design reflects realities of today's academic environments.

Smart design, smart construction. These easy-to-configure computer workstations integrate features such as channels with hinged covers for the management of wires. Everything has been designed to create a harmonious environment. Workstations feature easy access to the computer tower storage module which ingeniously also acts as a psychological barrier and divides the workspaces.
Interactive technologies are at the heart of the modern school. The configuration presented below illustrates a collaborative classroom setting that enables easy integration of today's and tomorrow's technologies. All laptop computers can be safely stored and recharged thanks to the laptop cart's power supply.
Think Smart for Effective Adminstration
Groupe Lacasse can meet an academic establishment's full range of administrative needs, from management to consulting.

Give free rein to your imagination! Groupe Lacasse products are all compatible, allowing you to easily combine different collections to create personalized workspaces. You can add United Chair seating and find solutions for all your storage needs with Lacasse laminate or steel lateral
files and steel multifunction storage cabinets.

Lacasse offers a variety of office furniture solutions for the most varied functions; from general clerical areas to executive workspaces. The above configuration illustrates an executive office with a meeting zone perfectly tailored to meet the needs of today's dynamic business environments.

Think Smart. Think People.
Lacasse offers reception and meeting solutions that encourage the wellbeing of the students and personnel of teaching
establishments.

Lacasse provides all-in-one solutions for the reception area to the private office. Our solutions offer a modular approach along with a wide selection of styles and options. Custom-made… almost! This perception is further enhanced by the fact that finishes, from laminates to metal paint and accent colors, are compatible across all product lines.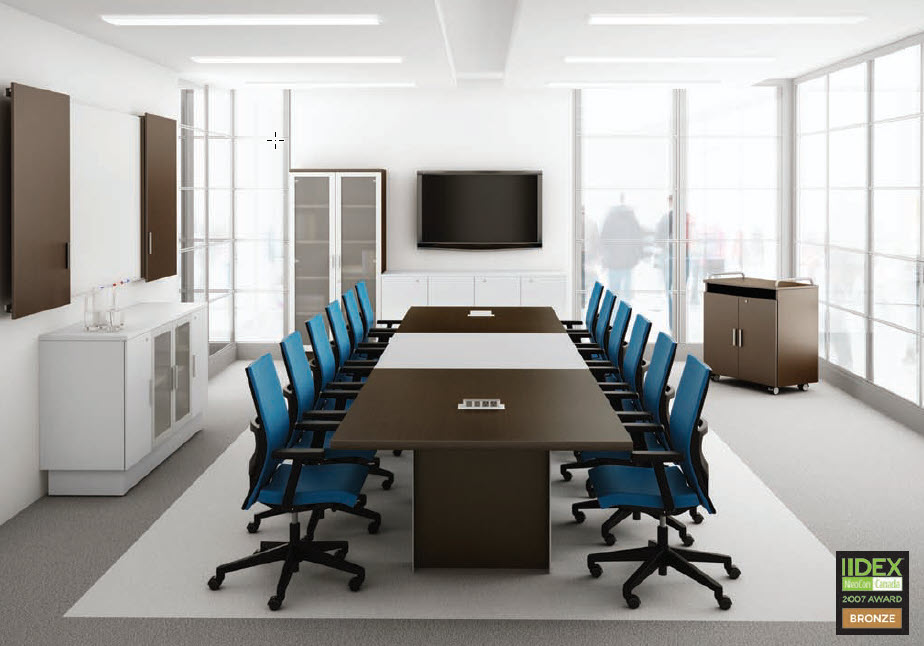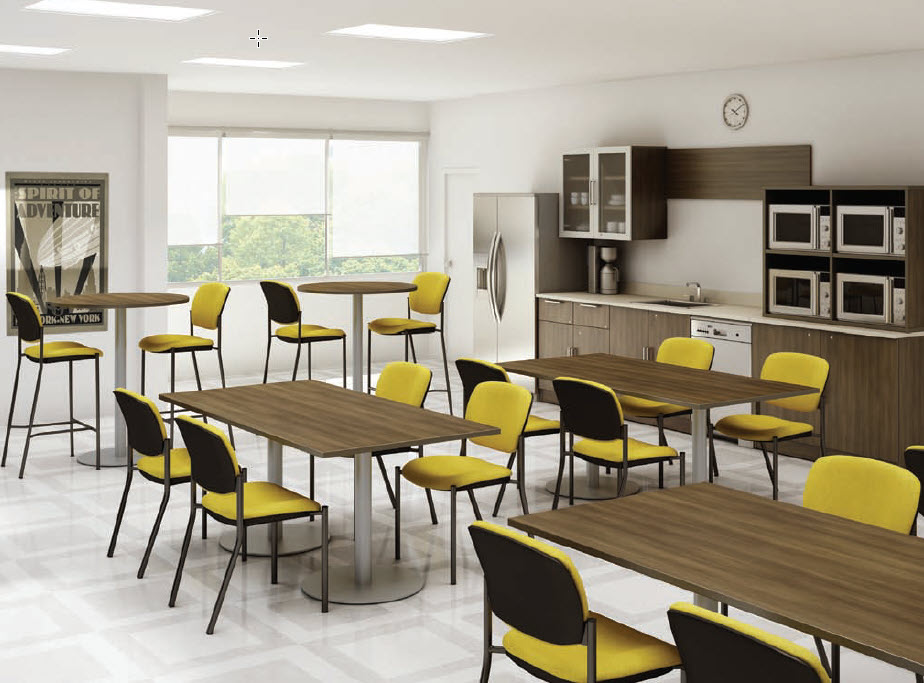 Conference, modular, training or height adjustable tables: regardless of your choice, the Lacasse Quorum Multiconference collection is a high performance solution that integrates technology in an ingenious manner and favors the harmonious exchange of ideas and information.
The pedagogical value of educational furniture momentarily breaks from its mission, turning into an area for relaxation. The coffee break provides an important opportunity for a more informal sharing of knowledge. The Café shown here integrates modular kitchen cabinetry accommodating a sink, dishwasher and microwave ovens; another powerful demonstration
of the functionality of Lacasse furniture.
Think Health.
Lacasse solutions truly cover every need, including those of infirmaries and sports locker rooms.

Lacasse furniture for infirmaries is esthetic, functional and configurable. It offers a number of possibilities: desks of different sizes, high or low cabinets and lockers, benches and cushions, etc. Moreover, the storage units can be secured with locks.
Lacasse offers a selection of modular lockers. Available in a variety of sizes, they lend themselves to multiple layouts and applications.
Let Us Help You Get The Right Furniture For Your Office. Our Sales Associates Have Over 30 Years Experience Each.
We're Here To Help You - Call Now 856-368-9085 - Half Price Sale On Now
Lacasse Think Smart PDF Component & Price List
Your Price is Half the List Price in PDF Call Now 856-368-9085 To Place Your Order
Delivery and Installation available nationwide. Call 856-368-9085 for more info. All Concept 400e is currently on sale for 50% Off.
Take Half Off List Prices in PDF.