Lacasse Reception Furniture
Reception Desks and Complimentary Furniture from Groupe Lacasse
Half Price Sale On Now - Call 856-368-9085 To Place Your Order or Ask Questions
Positive first impression
First impressions are paramount, since they imply, in the client's mind, what goes on behind the scenes. This is why your organization's reception area must reflect your credibility, your reliability and most of all, your professionalism. Choosing reception furniture by Groupe Lacasse is making sure you make a lasting impression. The combinations offered give you the opportunity to express your company's distinctive character. Play with colors, shapes and textures to create a reception area to your image and make a difference!
Morpheo Collection Curved Reception Desk
Just like a chameleon, the Morpheo reception furniture adapts easily to its environment. In addition to making a lasting impression on your visitors, the modularity and modern style of Morpheo will transform your reception area into an ergonomic and appealing workstation.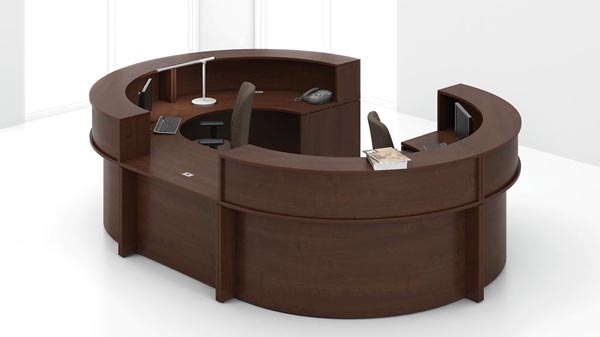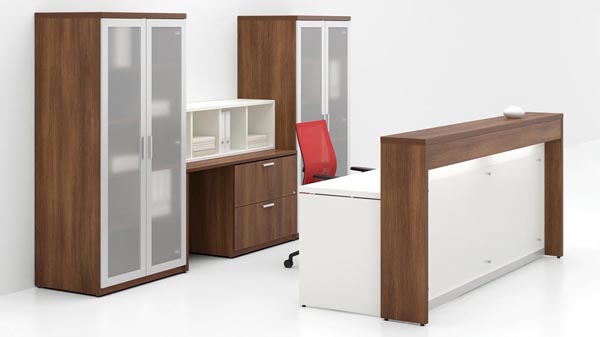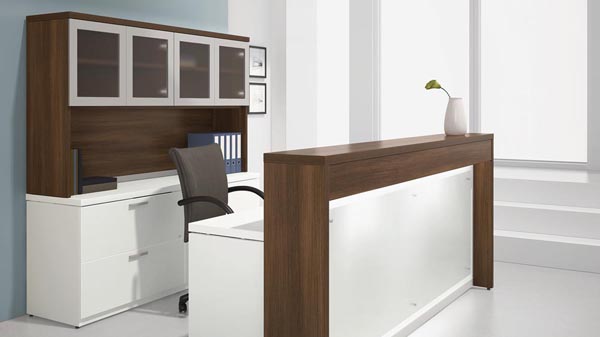 Practical curved design from Morpheo in Classic Chocolate finish. Onyx seating by United Chair
Morpheo furniture with aluminium kickplate in Hazelnut and Snow finishes. Affinity seating by United Chair
Morpheo Reception Collection Details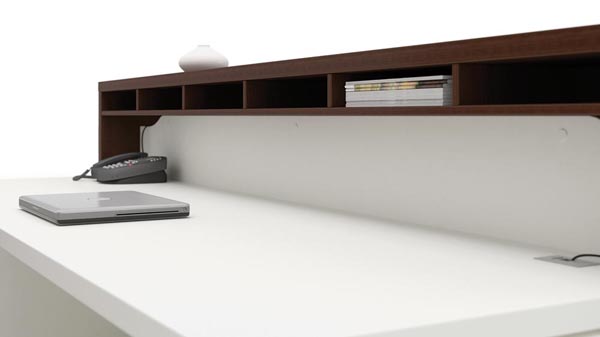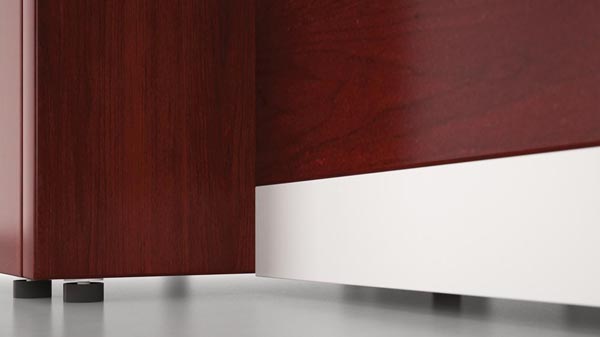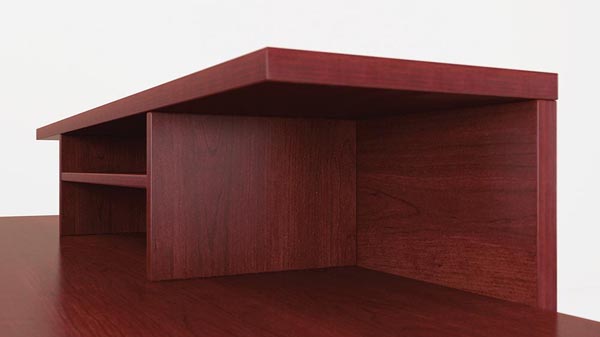 Morpheo reception furniture with anodized aluminium kickplate. Integrated pigeonholes, floating top look, wheelchair accessible counter, all these options make the Morpheo reception furniture indispensable.
Lacasse Concept 3
Concept 3 reception furniture lets you adapt your setting to your needs: select between our two models, with or without aluminium frame and translucent acrylic inserts, then choose the configuration that best suits you. Will it be the U, the L or the T shape? The choice is yours! The reversible left or right return shell gives you even more flexibility. With Concept 3, today's modern design is just simply accessible!
PanGram by Groupe Lacasse
The PanGram collection gives you the leeway to create separate zones in an open concept. Define your reception area with laminate panels, stackable fabric panels and frosted translucent screens. Flexible options such as the transaction countertop and 120-degree surfaces, that are easily configurable, are only a few of the benefits of PanGram.
Quad Series Reception Desk
Truly inspired by the Zen philosophy, Quad reception furniture gives an impression of harmony and sophistication. Its lines are straight and pure; its style, unique and impeccable. With the Quad collection, you can configure your reception area according to your needs. Follow your heart. Play with volume. Add translucent acrylic decorative panels, pedestals and storage modules. How about steel legs for a more urban feel? Or overlapping panels to create a floating countertop effect? The possibilities are practically endless!
Let Us Help You Get The Right Furniture For Your Office. Our Sales Associates Have Over 30 Years Experience Each.
We're Here To Help You - Call Now 856-368-9085 - Half Price Sale On Now
Reception Furniture PDF Component & Price List
Your Price is Half the List Price in PDF Call Now 856-368-9085 To Place Your Order
Delivery and Installation available nationwide. Call 856-368-9085 for more info. All Concept 400e is currently on sale for 50% Off.
Take Half Off List Prices in PDF.