Discount Office Furniture index of all furniture styles
Manufacturers
Seating
for index of all seating styles
Traditional & Contemporary Seating
Specialized Furniture ----All On Sale Half Price
Questions ? or
To Place Your Order
Call 856-368-9085
Call For Our Super Low Discount Prices
Questions ? or
To Place Your Order
Call 856-368-9085
Call For Our Super Low Discount Prices
Questions ? or
To Place Your Order
Call 856-368-9085
Call For Our Super Low Discount Prices
Questions ? or
To Place Your Order
Call 856-368-9085
Call For Our Super Low Discount Prices
Questions ? or
To Place Your Order
Call 856-368-9085
Call For Our Super Low Discount Prices
Questions ? or
To Place Your Order
Call 856-368-9085
Call For Our Super Low Discount Prices
Questions ? or
To Place Your Order
Call 856-368-9085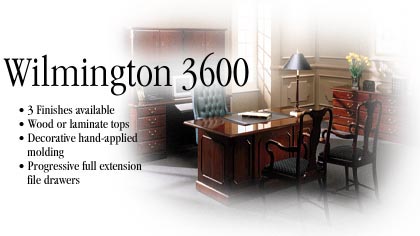 Now On Sale
Call For Our Super Low Discount Prices
Call for your low pricing and component options. 856-368-9085 Tell us what you need and we'll put together a quote for you with the Wilmington collection to meet your requirements.
The Wilmington Collection is On Sale Now
Our prices are so low the manufacturer won't let us publish them.
Call Now to Get Your Super Low Discounted Pricing - 856-368-9085
Delivery and Installation available nationwide call 856-368-9085 for more info.
856-368-9085
Beautiful traditional casegoods inspired by classic themes past bring refined elegance to prominent work enviroments where first impressions count. Finely crafted in select solids with walnut veneers, Wilmington ensures quality and expert craftsmanship with handsome components that support today's active work space functions.



An assortment of "U" and "L" configurations paired with effective storage components allows for workspaces with functional capabilities. reception, lounge tables, and conference products round out the collection for a total work enviroment solution.

Call 856-368-9085 To Place Your Order
Office Doctor Discounts All Furniture

Details:
Select grade American Walnut veneers with choice of three finishes. Durable high pressure laminate tops are also available in all three finishes.
Hardwood edge rims with mitered corners provide a solid, lasting top with a consistent finish appearance.
A durable, high quality, multi-step finish process accentuates grain clarity and provides superior resistance to normal worksurface wear.
Chassis consists of mortise and tenon pedestal construction with all joints securely fastened with hardwood screw rail brackets, screws, and glued blocks. This superior construction offers tight tolerances for long term product durability and stability.
All drawer slides carry a lifetime warranty. Box drawers feature ¾ extension slides. File drawers feature full extension slides.
Drawer fronts feature french dovetail drawer construction for maximum strength. Drawers are finished with oak-grain laminate interiors for a smooth feel and quality appearance.