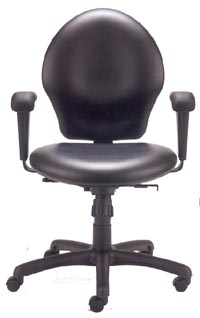 VT
Extra design attention for your back. Unique backrest design and multiple adjustments and sizes create highly personalized solutions.
A comprehensive line of ergonomic seating with multiple adjustments for a wide range of activities.
By supporting a more open angle between the hips and torso, VT does not restrict the circulation in the lower body, a major cause of muscle fatigue during extended work periods. The open angle along with the lumbar support relieves much of the tension on the lower back increasing comfort and productivity.
VT is available in different sizes and with a variety of performance functions to suit people and their tasks.
Offered in mid back, stools and guest models
Task models come standard with multifunction seat mechanism
Seat design combined with forward seat pitch mechanism on task models promotes proper circulation for less stress on thighs
Rachet back mechanism allow easy postioning of lumbar support
Fully upholstered backrest
Standard height and width adjustable arms with optional 3D arms (pivoting and height adjustable) or half loop armfixed arms with a variety of arm options
Nylon, steel or polished chrome base options
Black sled base on guest chairs
Limited lifetime warranty
High Perform, w/arm, LF
High Perform, w/o arm, LF
High Perform, w/arm, MF
High Perform, w/o arm, MF
Stool w/o arms
Stool with arms
Side Chair w/arms
Side Chair w/o arms
16.5 - 21
16.5 - 21
16.5 - 21
16.5 - 21
23 - 29
23 - 29
18.5
18.5
21.5
21.5
21.5
21.5
20.5
20.5
21.5
21.5
17 - 19
17 - 19
16 - 18
16 - 18
18
18
16 - 18
16 - 18
21.5 - 24.5
21.5 - 24.5
18.5 - 21.5
18.5 - 21.5
15 - 18
15 - 18
18 - 21
18 - 21
20
20
19.5
19.5
18.5
18.5
19.5
19.5
37.5 - 45
37.5 - 45
34.5 - 42
34.5 - 42
38 - 47
38 - 47
36 - 39
36 - 39
26.5
26.5
25.5
25.5
27
27
25.5
25.5
19.5
NA
19.5
NA
NA
18.5
19.5
NA