Laptop Cart from Safco Products
Laptop Secure Storage Cart
Half Price Sale On Now
- Call 856-368-9085
Laptop Cart
Lockable mobile carts let you secure and recharge up to 14 laptop computers at the same time.

Two UL-listed multi-socket power strips in front of unit; cable management holes at bottom of cart.
Perforated steel doors and back panel for proper ventilation.
Heavy-duty casters (two locking) for transport.
Scratch-resistant laminate tops provide a useful work surface.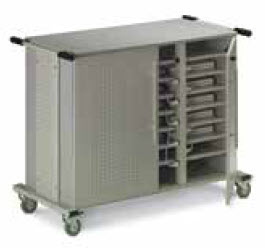 Laptop Cart
Half Price Sale On Now
- Call 856-368-9085

Take Half Off List Prices in PDF
Give Us a Call, We'll Get You a Quote Based On Your Specifications 856-368-9085 Call Now