Save valuable real estate.
Mobile 1000 from Safco puts storage components on a sliding track – and saves up to 50% of your valuable real estate in the process. Simply roll storage banks along the track to access a specific location. You can equip Mobile 1000 with cabinets, shelves, file drawers and more – you can even use competitive storage components. You can also mobilize your existing lateral files. Best of all, Mobile 1000 is modular and reconfigurable, so it's easy to expand and relocate.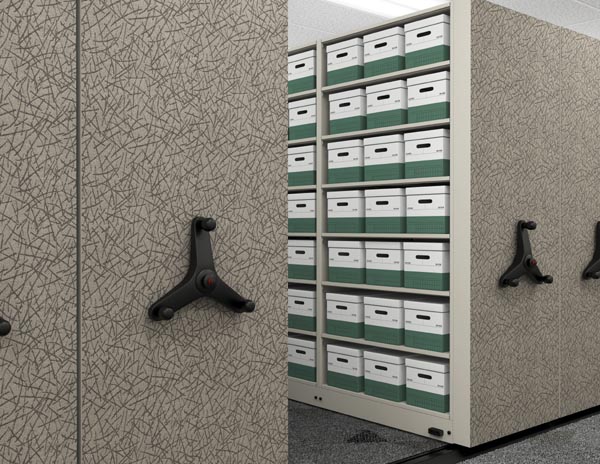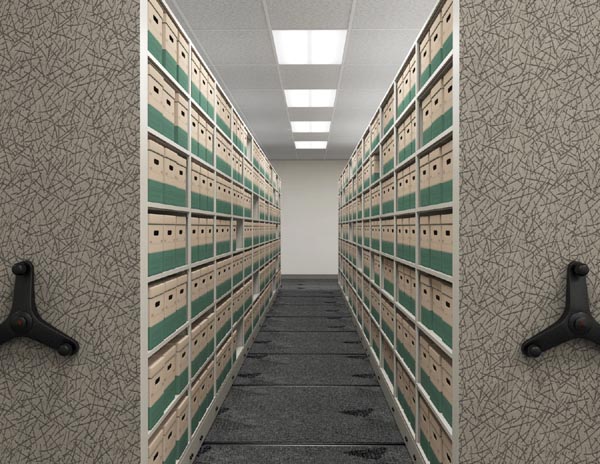 Mobile 1000 High Density Storage Mobile 1000 File Box Storage
More Room, Less Space with High Desity Filing
Easy to move – 1 lb. of effort rolls 10,000 lbs. back and forth along tracks.
Increases filing capacity by up to 75% compared to the same footprint of conventional filing.
Can be installed around obstructions, atop raised floors and on floors above ground level.
Tracks can be located in 6" increments for greater flexibility in distributing weight loads.
Rear-track flush-mount option positions system close to walls.
Magnetic decorative panels bring fabric and laminate elements to your filing system.
ADA/Cart Incline Ramp.

Floor-friendly design: non-grouted track, wheel channel assembly, unfinished decking,
full-length drive shaft, modular bases and four-post uprights and supports.
Mobile 1000 - High Density Storage That's Built to Move and Last
More room, less space. Let's roll. A Mobile 1000™ high-density storage solution is something of an engineering marvel! It eliminates wasted aisle space and triples storage capacity of conventional filing cabinets. In fact, the system's mobile ranges can save up to 50% of valuable real estate. Simply roll mobile ranges along a track to access contents.
Mobile 1000 can be equipped with shelves, drawers, cabinets, and more options from Safco-Mayline. Best of all, Mobile 1000 is modular and reconfigurable making it easy to expand and relocate. It all adds up to better space efficiency, easier item location and retrieval, increased storage flexibility, and the ability to adapt to future expansion and reconfiguration needs.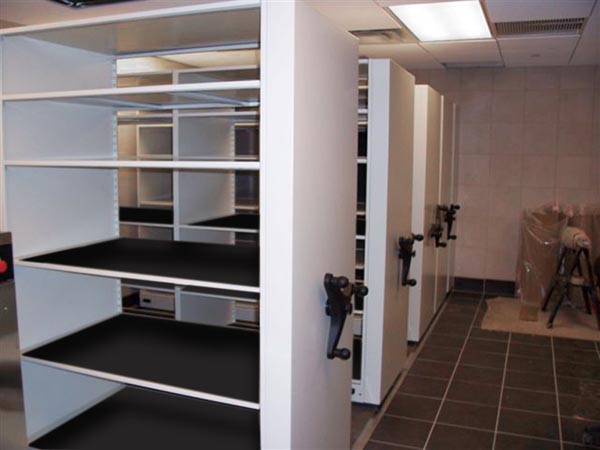 Mobile 1000 Aisle Shelving with and with out Mats
A red safety occupancy indicator on the handle alerts users when an aisle is in use. A green indicator means the unit is safe to rotate handles and move ranges. Plus, Mobile 1000 features an in-track, anti-tip mechanism.

Sturdy
With all-steel construction, modular carriages support up to 8,000 pounds per carriage. Full height and width end panels are also steel.

Versatile
A wide variety of storage options provide secure environments. Typical applications can include storage for archival objects, criminal evidence and law enforcement equipment, medical and pharmaceutical supplies, athletic storage, library or bulk storage requirements.

Space Planning
Safco-Mayline offers free, expert high-density storage design services. We recommend the best solutions, develop drawings for floor plans, and provide a list of all the materials needed to create an effective storage solution.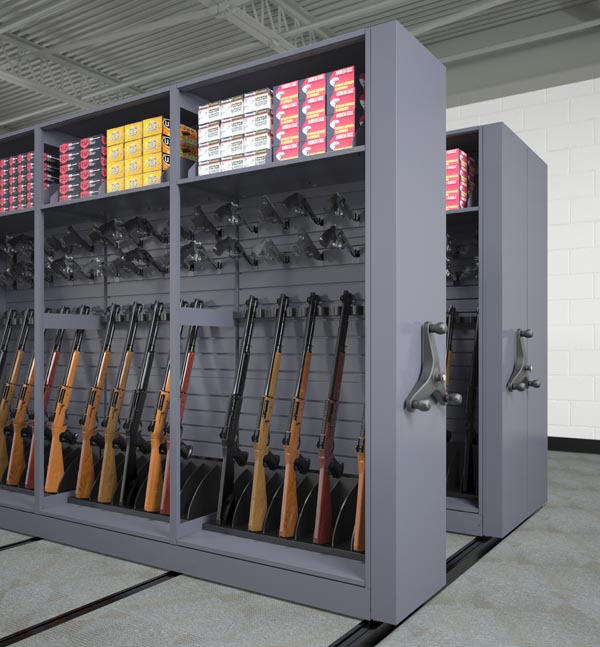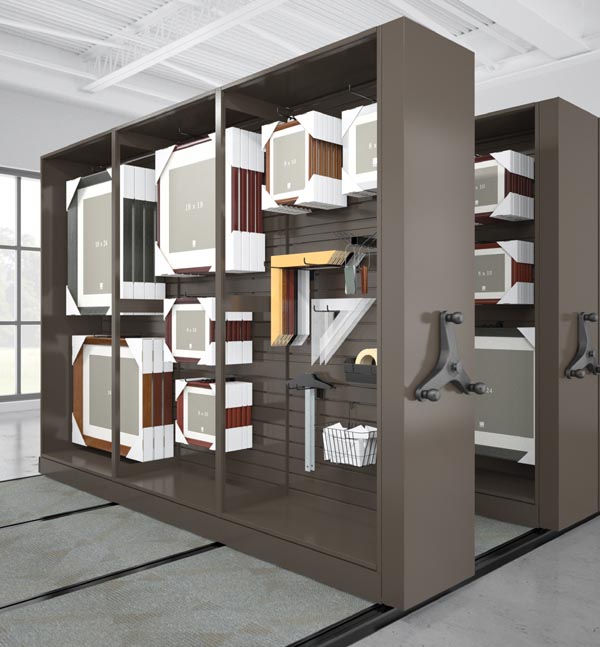 Mobile 1000 Used for Retail Display and Storage
You're On The Right Track.
The Mobile 1000 track is something of an engineering marvel – rugged enough to support thousands of pounds but nimble enough to expand or relocate with ease. While most heavy-duty mobile systems are grouted and permanently attached to the floor, Mobile 1000 features a non-grouted, interlocking steel track. So it won't leave you spinning your wheels as you grow!

Mobile Aisle Medical Storage and Side Tab Filing
Modular carriages support up to 8,000 lbs. each.
All-steel construction, including full-height end panel.
Standard in-track anti-tip mechanism.
Continuous drive shaft runs entire length of range to prevent racking.
Mobile 1000 Mechanical Assist moves up to 30 ft. in range length.
Manual Mobile Aisle is designed for ranges up to 8 ft.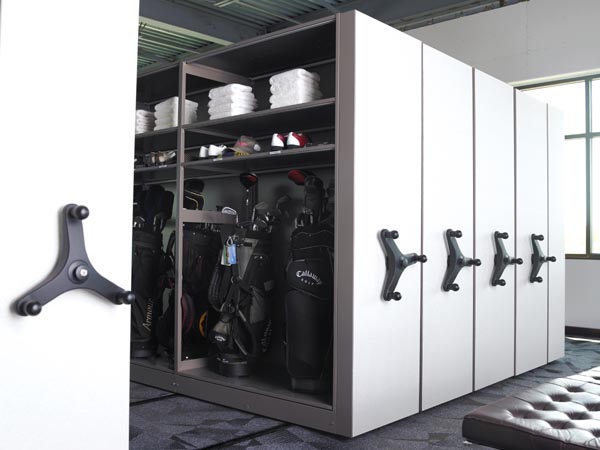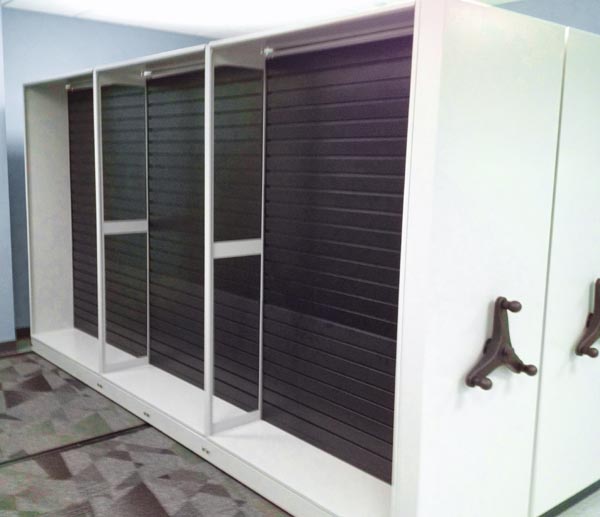 Mobile 1000 Golf Storage Mobile 1000 Slatwall
Think Outside The Box Slatwall Storage & Accessories
Slatwall makes Mobile 1000 even more flexible – with bins, wire baskets, trays, shelves, display hooks and other specialized accessories that can organize and
store non-traditional items. It's a great solution for healthcare, education, retail, law enforcement and a whole host of other market segments.
Prescription for Success: A more efficient way of storing medical equipment.
Aluminum and steel, painted components (standard).
3 heights and 3 widths.
Attach without hardware or fasteners.
Can be used in both mobile and stationary shelving.
Slatwall available in Black only
.
Take Half Off List Prices in PDF
Give Us a Call, We'll Get You a Quote Based On Your Specifications 856-368-9085 Call Now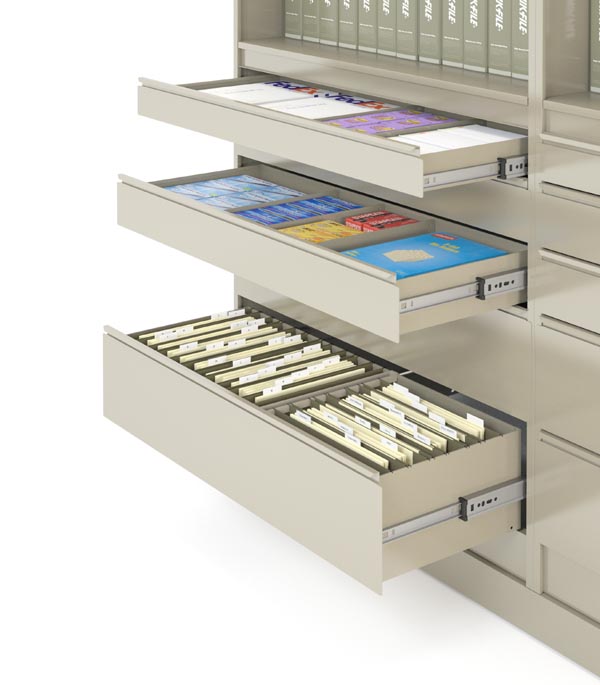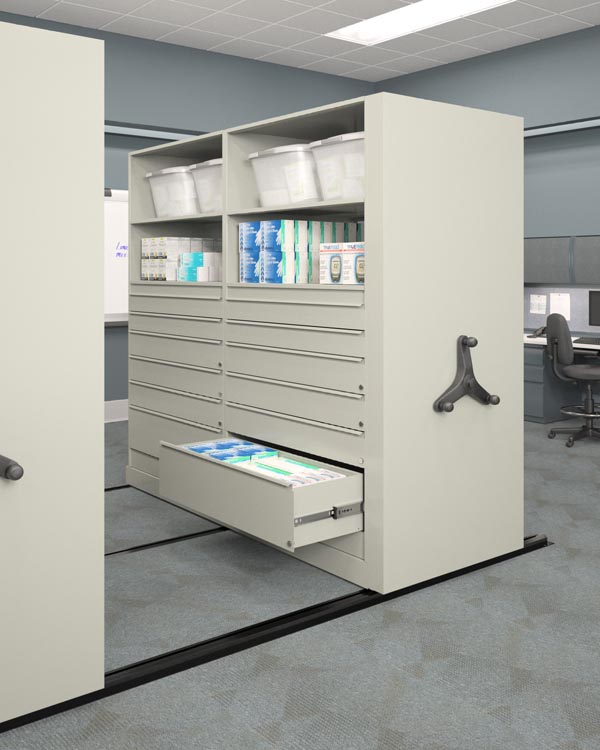 Mobile 1000 with Roll-Out Drawers

Mobile 1000 brings you more than lateral file drawers – we also offer a variety of smaller partitioned drawers to accommodate everything from computer media to office supplies. You can mix drawer sizes to suit your unique storage needs.
6" and 10½" drawers offer a key-lock option.
4½", 6" and 10½" height options; 24", 30", 36", 42" and 48" widths.
Store letter and legal hanging files, front-to-back or left-to-right.
Flush-front design with full-width recessed pulls.
Heavy-duty, soft-closure retention slides.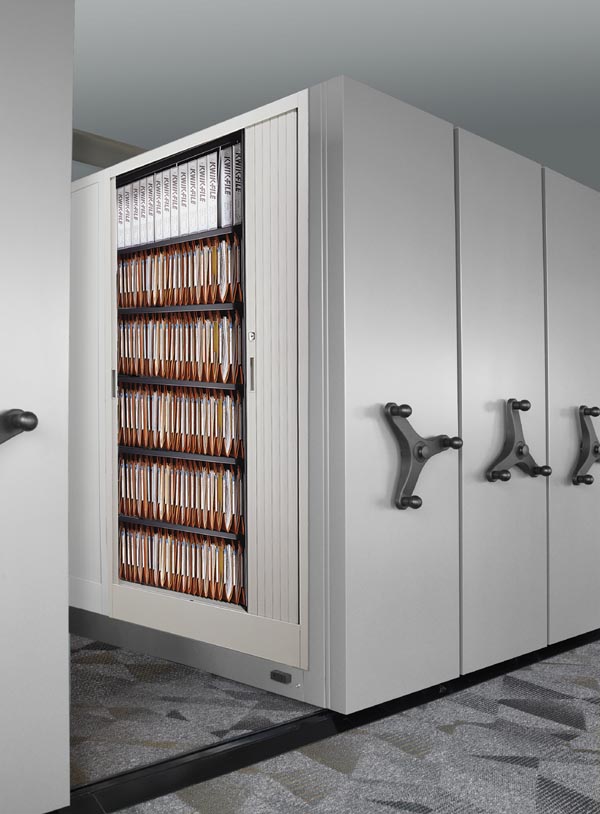 Mobile 1000 with File Harbor Security Doors
Spice Up Your Storage Decorative Enhancements
You can customize your Mobile 1000 system quickly and cost effectively with our magnet-backed fabric. Or choose one of our many standard paints – you can always enhance it with a magnetic panel later. Magnet-backed tackboards are also available.
Installs in just minutes.
Fabrics and finishes match Mayline's standard offering.
For use on most of our high-density storage and filing products.
Due to the magnetic backing, not recommended for film, diagnostic or electronic media storage.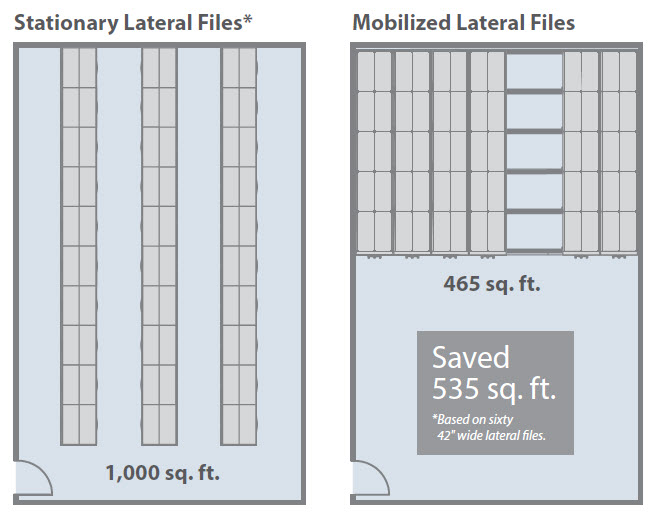 Mobile 1000 Floor Space Saved
Versatility Meets Value - Don't Get Locked In Place.
Fixed storage is the most obvious solution – but it's not always the best. Mobile 1000 offers better space efficiency, easier item location and retrieval, more storage flexibility, and the ability to grow and change with your business. The possibilities are virtually endless!
Make A Move For Less
Take Half Off List Prices in PDF
Give Us a Call, We'll Get You a Quote Based On Your Specifications 856-368-9085 Call Now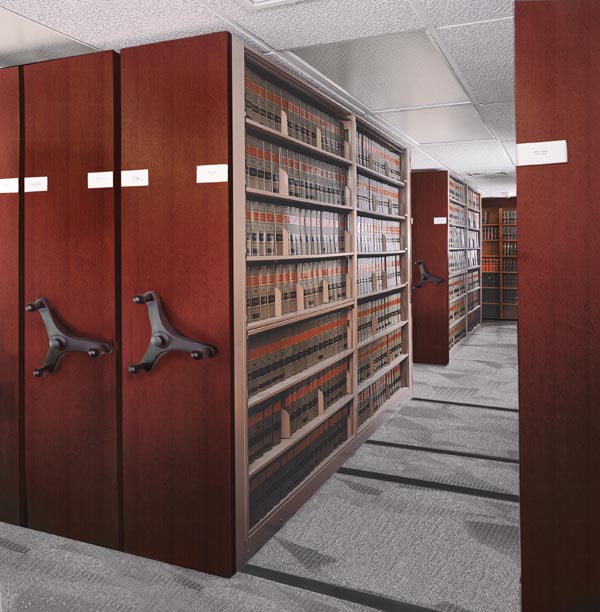 Mobile 1000 For Your Library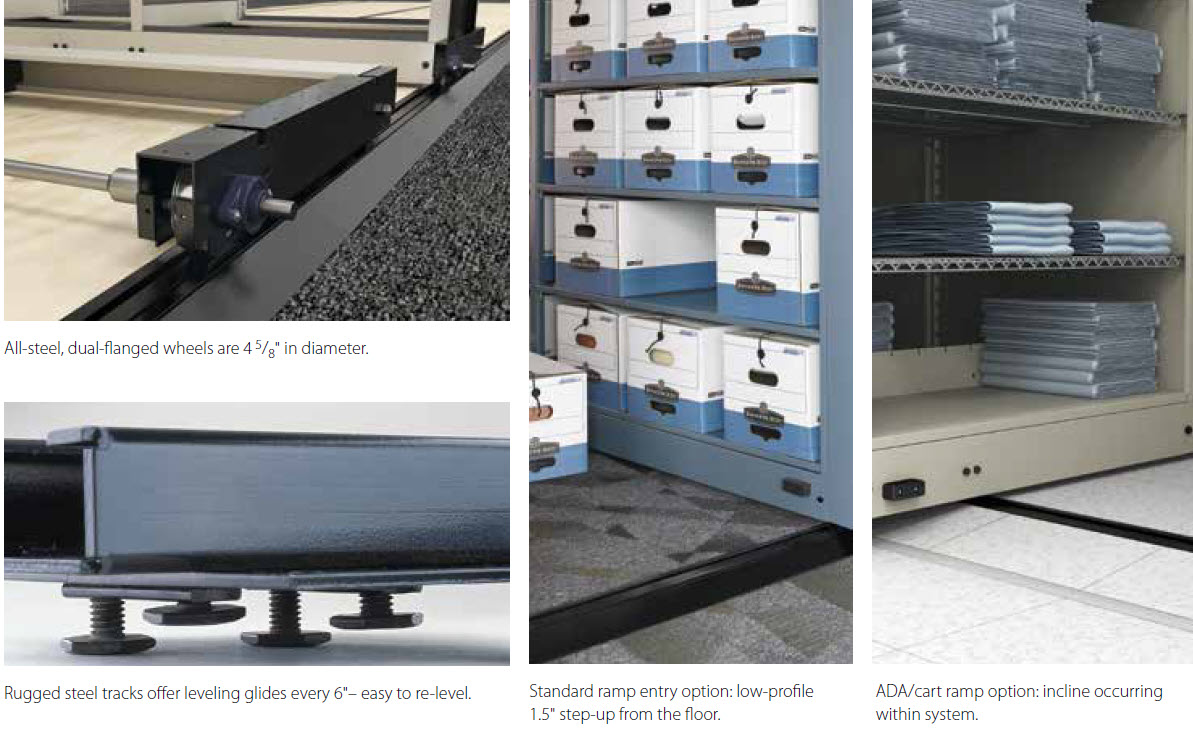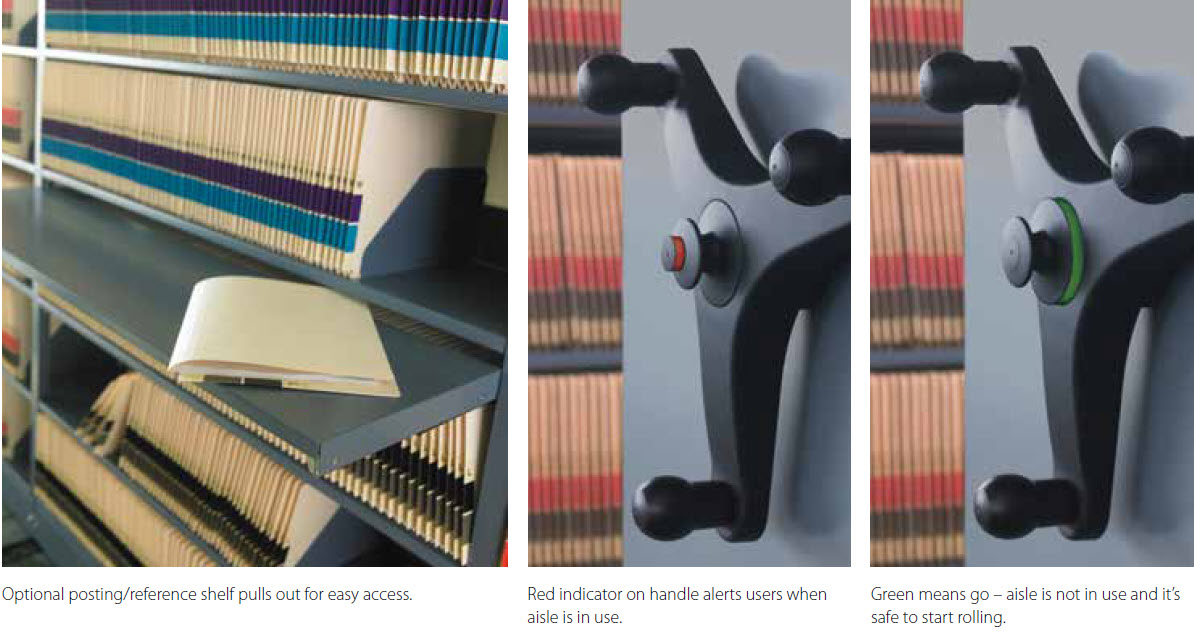 Take Half Off List Prices in PDF
Give Us a Call, We'll Get You a Quote Based On Your Specifications 856-368-9085 Call Now