Four Post Shelving on Kwik-Track Safco Products
Flip 'n File on Kwik-Track Filing and Storage
Half Price Sale On Now
- Call 856-368-9085
Four-Post Shelving
Expand Your Options: This stationary Four-Post Shelving unit can be easily mobilized on Mobile 1000, Mobile Lite or Kwik-Track.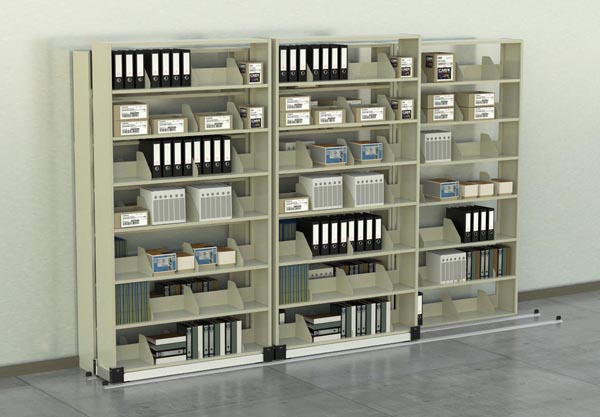 Four Post Shelving/Filing Installation
The most efficient, economical solution for your storage and filing needs, Four-Post Shelving allows greater visibility and one-touch retrieval of end-tab filing. It also accommodates box and archival storage as well as a variety of custom storage options. Stationary Four-Post Shelving can be easily mobilized.
Five shelf heights, five widths and six depths.
Supports letter and legal filing.
Shelves adjust on 1½" centers, dividers on 3" centers.
Easy to assemble, no hardware required.
Holds 240 lbs per shelf.
Optional reference shelf and back panel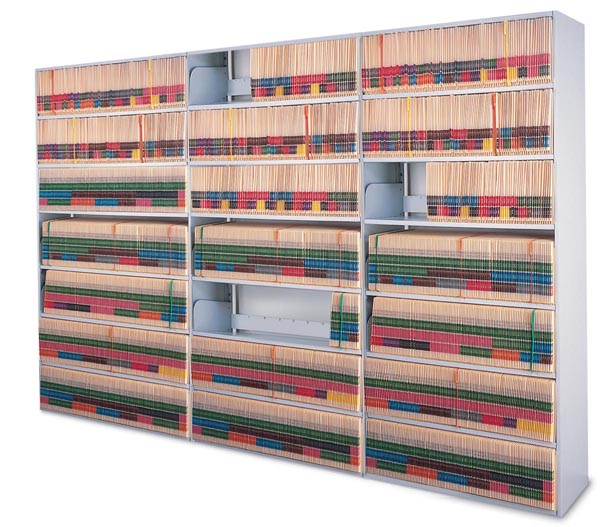 4-Post 7 Tier High 3 Units Wide End Tab Filing Installation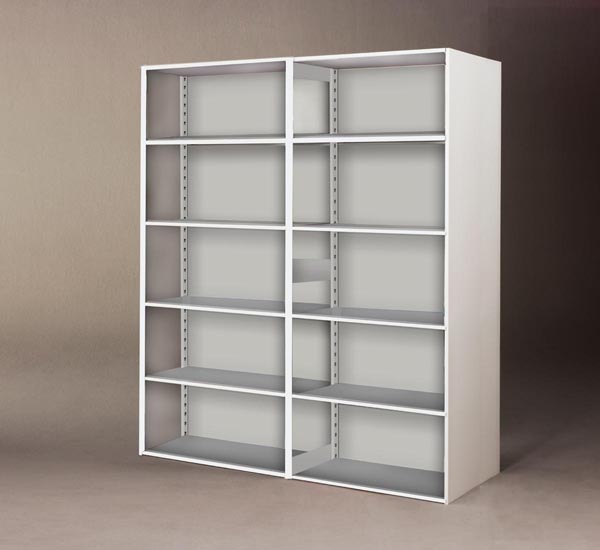 Heavy Duty Four Post Shelving Bare
Four Post Heavy-Duty Shelving
This heavy-duty shelving offers exceptional weight-load capacity and greater shelf depths to support heavier, larger items.
Easily accommodates taller-than-standard vertical openings as well.

Supports up to 1,000 lbs. per shelf.
Shelves made of 18-gauge steel.
Available in single-face (18") and double-face (36") depths.
Oversized dividers adjust on 3" centers.
Five standard widths.
Easy to assemble, no hardware required.
11" x 17" Binder Capable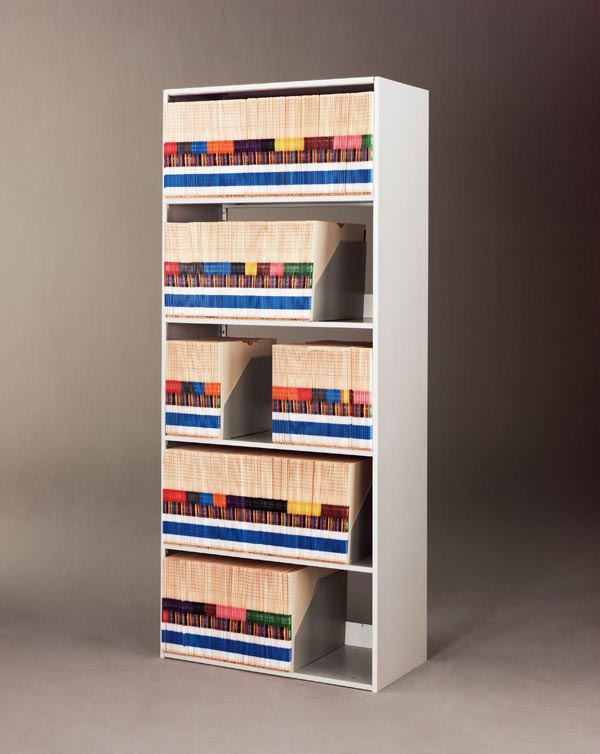 Four Poat X-Ray File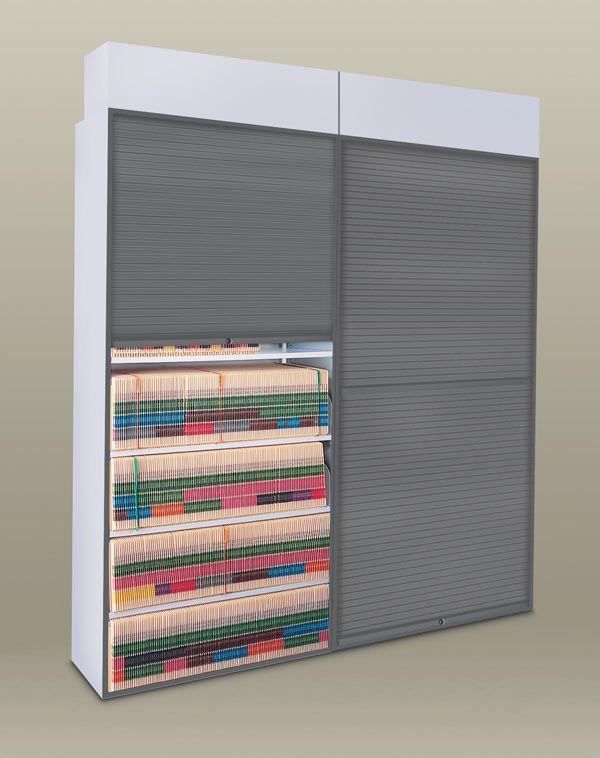 Security Shade Locking Tambour Door
Security Shade
This vertical locking tambour door is an affordable alternative to purchasing new locking filing systems.
Easily installs on existing Four-Post Shelving with basic width/height dimensions.
No need to remove files for door installation.
Doors and tracks offered in three widths and three heights with graphite color finish.
Steel housing for doors is available in 15 standard colors; custom colors available on request.
For use with Stationary Four-Post Shelving, Heavy-Duty Shelving, Mobile Lite, Kwik-Track and Mobile 1000.
Cannot be used with a reference shelf.
Doors available in Graphite only.
Half Price Sale On Now
- Call 856-368-9085

Take Half Off List Prices in PDF
Give Us a Call, We'll Get You a Quote Based On Your Specifications 856-368-9085 Call Now


Safco Flip 'n File on Kwik-Track Mobility System
Flip 'n File Kwik-Track - When You're Up Against The Wall
When space is really at a premium, you need Kwik-Track. It allows you to put one or two rows of laterally moving storage units in front of stationary storage units placed against the wall. You can mobilize open file shelving or cabinets to provide greater storage and filing efficiency.
Multiple letter and legal configurations are available.
Low-profile track is ADA-compliant.
In-track anti-tip safety feature.
Aluminum track with steel inserts.
Future expansion requires minimal dismantling of current system.

Kwik-Track View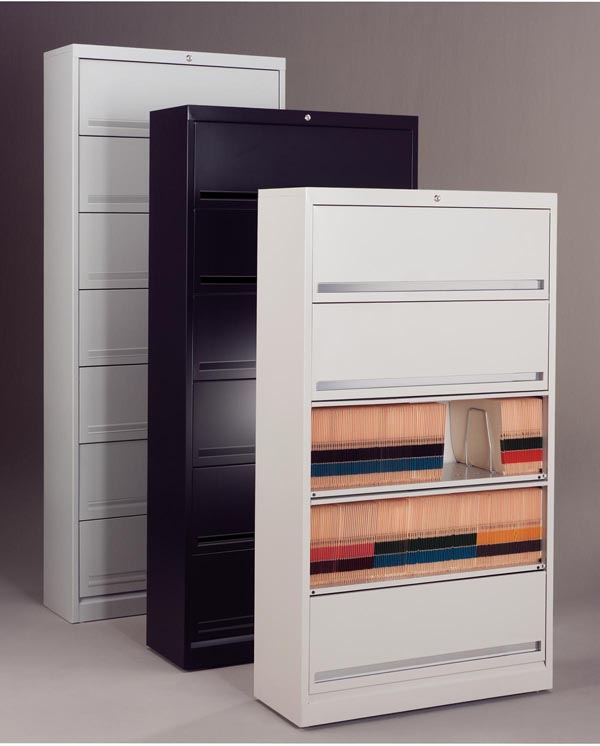 Flip 'n File 5 to 7 Tiers Available
Flip 'n File
Rugged, affordable Flip 'n File units are offered in a choice of open- or closed-door designs featuring fixed shelves with standard painted steel dividers. Retractable spring-assisted doors with recessed pulls respond easily to the touch for quick, complete accessibility to files without blocking aisles.

36"-wide open- or closed-door units in 5, 6 and 7 tier configurations.
Allows both letter and legal filing.
Four dividers provided per shelf, adjustable in 1" increments; additional dividers available.
Label holders on closed-door units help identify contents.
Adjustable levelers and glides assure smooth operation.
Standard security lock on each closed-door unit.
Can be mobilized on Kwik-Track.
Holds 120 lbs. per shelf.
Half Price Sale On Now
- Call 856-368-9085

Flip 'n File Components and Pricing
Take Half Off List Prices in PDF
Give Us a Call, We'll Get You a Quote Based On Your Specifications 856-368-9085 Call Now
Free delivery to businesses location with loading dock. ($1,250 Minimum otherwise $120 charge) Residential, no loading dock and other non-comercial location deliveries available call for details. Inside delivery and Installation available call 856-368-9085 for more info. All Safco Mayline is currently on sale for 50% Off. Take Half Off of List Prices shown in Price PDF.