CSII Series from Safco Products
CSII Modular Office Furniture
Half Price Sale On Now
- Call 856-368-9085
You don't have to choose between furniture that lasts and furniture that looks good – CSII delivers on both counts.
It's built like a tank, with a rugged steel framework that will stand up to a lifetime of intensive use. Yet it's also aesthetically appealing, with clean lines and graceful curves, plus virtually unlimited paint, laminate and fabric options. Built to last, designed to impress and priced to wow, CSII will bring value to every level of your organization.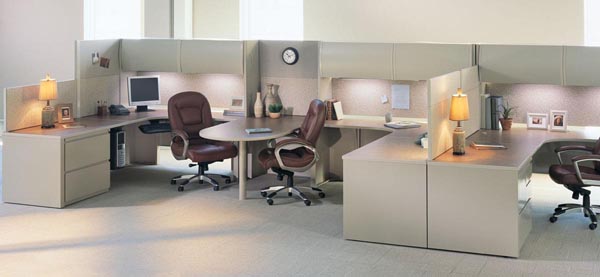 CSII Collaborative Workstations
CSII - Who Knew Steel Could Be So Flexible
Tough doesn't mean inflexible when it comes to CSII. It will adapt to a wide variety of environments, from open plan to private office. Worksurfaces are available in numerous shapes and sizes. Abundant storage options solve any filing, piling and archival need. It's all easy to specify, install and reconfigure, so it can grow and change along with your organization. CSII will rise to any challenge, now and in the future.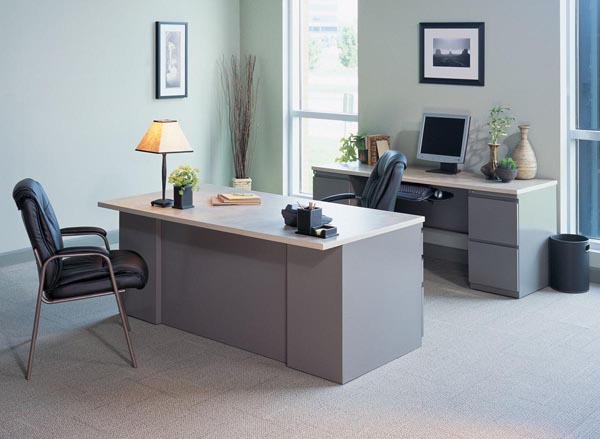 CSII Executive Desk with Kneehole Credenza
Half Price Sale On Now
- Call 856-368-9085

Take Half Off List Prices in PDF
Give Us a Call, We'll Get You a Quote Based On Your Specifications 856-368-9085 Call Now

CSII Double Peninsula Workstation
Define Your Space
CSII provides all sorts of ways to promote interaction, enhance focus and support individual work styles – even within a single workstation. Stackable fabric panels allow varying degrees of privacy. Storage components can be used to define boundaries as effectively as they keep work close. "P" and "J" tables offer conferencing flexibility even as they conserve valuable real estate. Get the most out of your space with CSII.


CSII Drafting/Engineering Desk Workstation
CSII includes a number of features that enhance productivity, efficiency and user satisfaction. Expansive desk surfaces provide plenty of room to spread out work. Storage components run the gamut from under-surface to eye-level to overhead, in configurations that suit any set of job responsibilities. Streamlined aesthetics adapt well to the personal touches that make an office more comfortable. It's a smart investment for your workplace and your workforce.
CSII enables you to create a unified look, feel and function throughout your organization. Reception desks, conference tables, lateral files, bookcases and other storage components complement ourworkstation products – and deliver the same long-lasting durability and attention to design detail.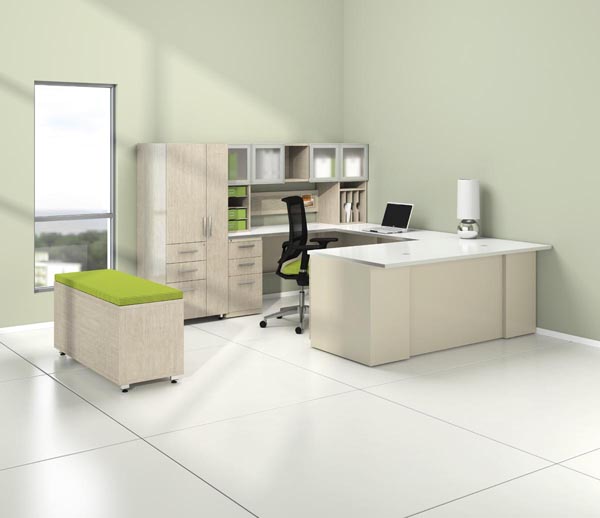 CSII Executive "U" Desk Suite
With "user-friendliness" in mind. CSII designs make it easier to specify, install and reconfigure. From non-handed pedestals and legs to the radiused overhead doors. CSII speaks volumes when it comes to affordability, durability and style. We've taken the ordinary workstation to a whole new level.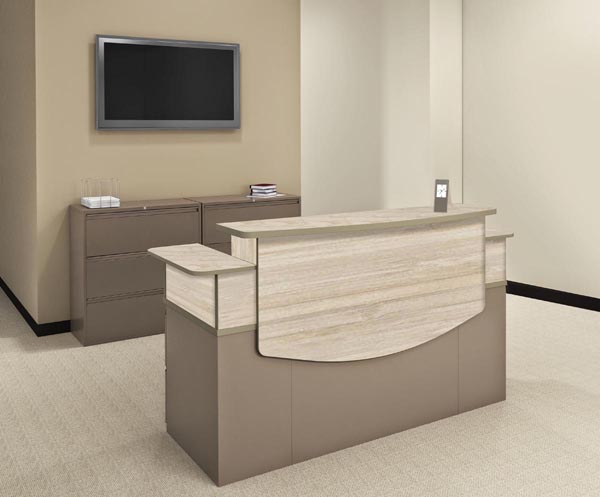 CSII Reception Desk with Lateral Files
CSII Features:
All desks, credenzas, and returns feature integrated, full-depth pedestals with full-extension ball bearing drawer sldies.
High-pressure laminate surfaces with durable PVC edge.
Cable management is designed into all desking components.
Overhead units feature radiused door fronts and concealed locks for an upscale appearance.
As standard, all desks ship with full-height modesty panels. Credenzas standard is 3/4 height modesty panel.
Unique P- and J-surface designs are less costly and cleaner looking than conventional workstations.
Overhead units feature optional fabric tackable panels and tasklights.
Pedestals (and Table Legs) are non-handed to simplify specifying and installing.
Laminate storage components add warmth and dimension to your CSII station.
Corner Support Modules (with shelves) securely support Overhead Cabinets.
Fabric Panels can be stacked and ganged to create many unique combinations.
Desk-mounted Hutches feature elegant radius-front Overhead Flipper Doors.
"Soft Close" system provides safe, secure and quiet closure of Flipper Doors.
A CPU Holder is one of many support products that makes users more productive.
Freestanding Height-adjustable Desks promote healthy movement throughout the day.
Steel files and bookcases align dimensionally with CSII Desking and Hutches.
Laminate storage components are available in the six colors shown below and even more configurations than you see here.

Half Price Sale On Now
- Call 856-368-9085

CSII Layout Options
Take Half Off List Prices in PDF
Give Us a Call, We'll Get You a Quote Based On Your Specifications 856-368-9085 Call Now
Free delivery to businesses location with loading dock. ($1,250 Minimum otherwise $120 charge) Residential, no loading dock and other non-comercial location deliveries available call for details. Inside delivery and Installation available call 856-368-9085 for more info. All Safco Mayline is currently on sale for 50% Off. Take Half Off of List Prices shown in Price PDF.