Arc Rotary Storage
ARC Rotary Files fit where other storage and filing solutions cannot. The rotating cabinets are designed with a turning configuration with unique construction that provides access to all contents on each side of the unit. ARC is available as Starter and Adder preconfigured units in 3-8 tier heights, letter or legal-size, and your choice of knockdown or assembled prior to shipment. Or you can easily specify your own storage configuration to fit your way of doing business.
ARC Rotary can be designed into your floor plan as partitions, dividers, counters, against walls or divide adjacent workstations. Almost doubling the storage capacity of traditional lateral or storage cabinets, ARC Rotary is an ideal space saving solution increasing overall capacity while maximizing security and privacy.
Environmental VOC+Made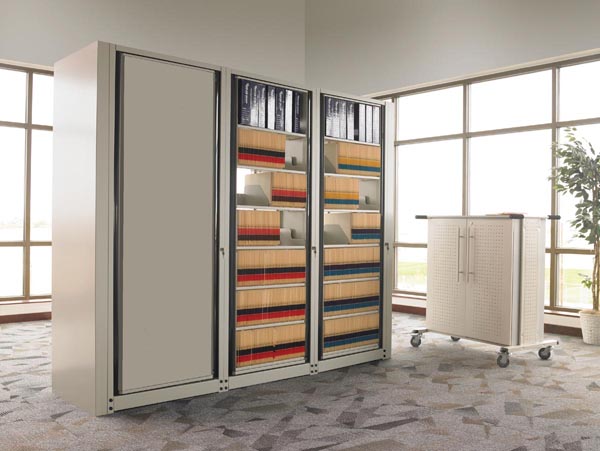 Arc Rotary Filing System
Benefits:
• Back-to-back/dual sided storage provides up to 40% more capacity than traditional roll out drawer cabinets
• Instant access to all contents from both sides of the unit
• Easy-to-adjust cantilever designed shelving makes field adjustments simple
• Secure, lockable storage on both sides for privacy
• Design into your floor plans where space is limited
• Easy to expand system in either direction with universal base
• Easy to specify your own configuration to fit your specific filing needs
• Provides convenient storage for end-tab or top-tab filing, binders, supplies and other materials.
• Easy push or pull rotation and no cumbersome foot pedal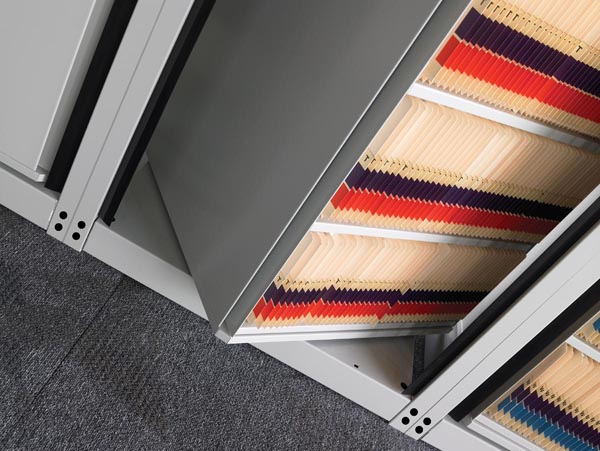 Rotary File Detail
Counter Height Cabinet with Table Top
Features:
• Rotating mechanism self-locates every 90 degrees
• Standard security lock positioned waist high
• Optional components include reference shelf, cantilevered slotted shelf, roll-out drawers, shelves and hanging file frames, as well as pass-through shelves
• Optional decorative enhancements for doors
• Optional work surface creates a standing-height table
• Slotted and magnetic dividers
• Starter and adder units
• Letter and legal depth options
• Available in 3-8 tier heights (optional laminate or melamine surfaces for shorter tier units or for the ARC Work Center)
Limited Lifetime Warranty
Take Half Off List Prices in PDF
Give Us a Call, We'll Get You a Quote Based On Your Specifications 856-368-9085 Call Now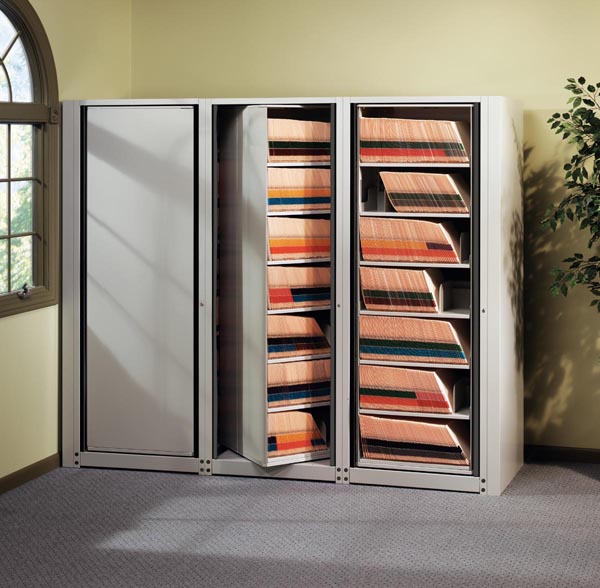 Arc Rotary Filing System in Office Setting
ARC Rotary Files fit where other files won't. Minimal access space is required because no doors or drawers protrude into aisles. Yet you can access twice the amount of material from a single vantage point, compared to conventional filing solutions. There are no cumbersome foot pedals to operate, a slight push is all it takes to rotate cabinets. Each unit has a standard lock to maximize security and peace of mind.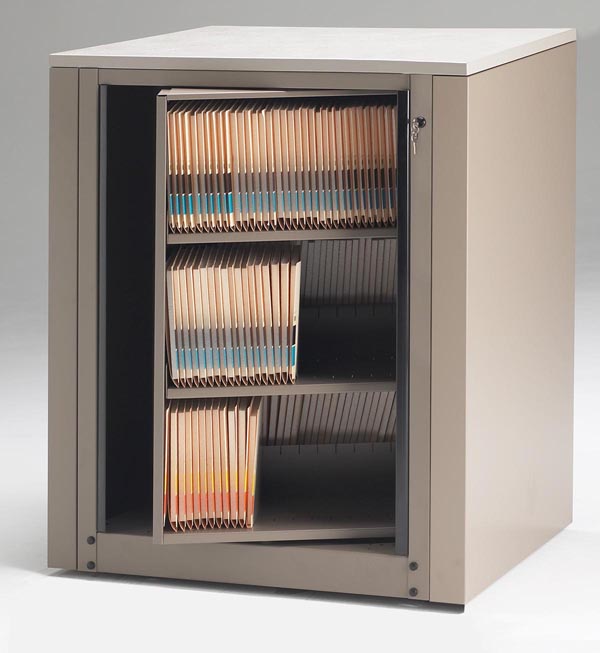 Arc Rotary Table Height Cabinet Interior
Four Post Heavy-Duty Shelving
Choose from six preconfigured units or specify your own storage variations.
Universal base lets you expand system in either direction.
Units are lockable and secure (standard)
Options include reference shelf, cantilevered slotted shelf, roll-out drawers, roll-out shelves, roll-out hanging file frames and pass-through shelves.
"ARC-in-the-Box" units shipped assembled – leveling and shelf/divider installation required.
Holds 120 lbs. per shelf.
Take Half Off List Prices in PDF
Give Us a Call, We'll Get You a Quote Based On Your Specifications 856-368-9085 Call Now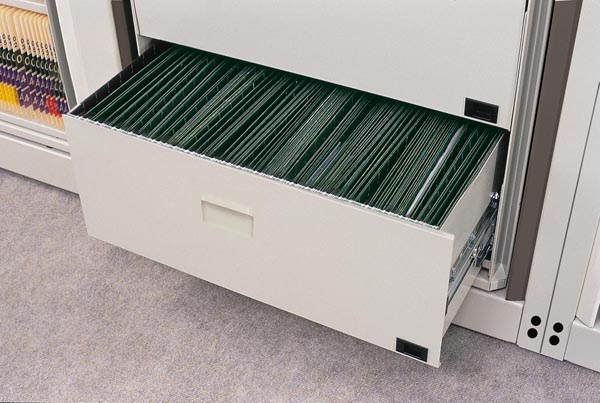 Arc Rotary File Drawer